Come out out to a Gen180 event! Missed one? View past events and watch their recaps and recordings.
Climate Comedy

Generation180
Earth to Mars Comedy Tour: Atlanta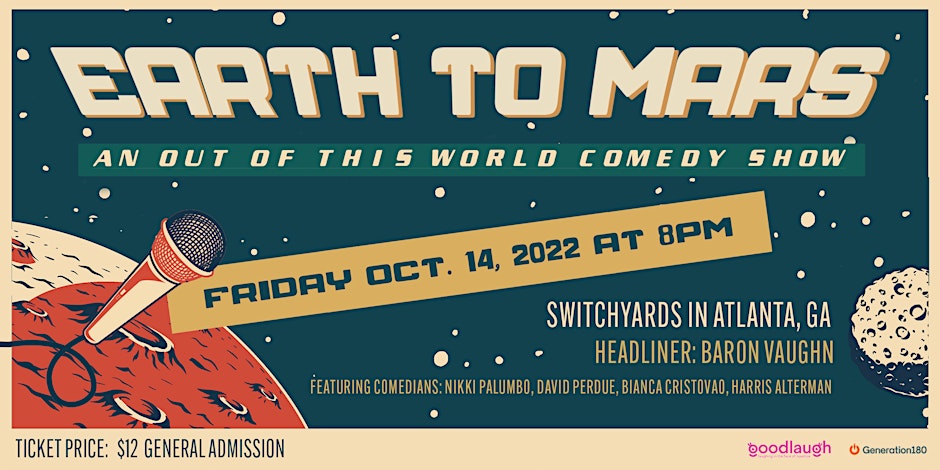 The Earth to Mars Comedy Tour is coming to ATLANTA! This tour features comedians you've seen on The Late Show with Stephen Colbert, Comedy Central, OWN, and TruTV. After a showcase in New York, they are taking the laughs coast to coast and stopping in towns big and small on their way to a final show in Los Angeles.
Headliner Baron Vaughn has performed on Comedy Central in his own Half Hour, and The Meltdown with Jonah and Kumail. He's also appeared on HBO's 2 Dope Queens, Showtime's SXSW Comedy, and TBS' Conan (twice). On top of headlining major clubs and colleges all over the US, Baron has performed at the Just for Laughs (Montreal), Life Is Beautiful (Las Vegas), and the New York Comedy Festival among others.
Bianca Cristovao has toured with Bill Burr and recently appeared on The Late Show with Stephen Colbert.
David Perdue has appeared on Kevin Hart Presents: Hard of the City on Comedy Central, as well as FuseTV, OWN, and truTV.
Harris Alterman has performed in The Laughing Skull Comedy Festival, Limestone Comedy Festival, San Francisco Sketchfest, and The High Plains Comedy Festival.
Nikki Palumbo Nikki has written for the MTV Movie & TV Awards: Unscripted, hosted by Nikki Glaser, and worked as a story producer on the YouTube Originals weekly music show, RELEASED.
The show is co-produced by Generation180 and CMSI's Good Laugh. Head here to learn more and buy tickets.